Sometimes We Just Don't Know What We Don't Know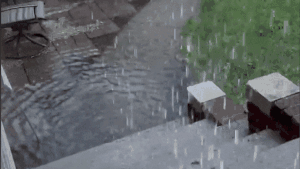 Sometimes we just don't know what we don't know.
We had a big, sudden thunderstorm on Saturday night in the city. It crazy POURED in a short amount of time.
Which meant we spent our Saturday night sopping up water in the basement!
It came from under the walls and up through the floor.
I rolled up the carpet, shop vacced the water and spent a few hours rotating towels.
And my husband was out of town to add to the fun 😉. I was exhausted!
But thankfully, the rain didn't last long.
Anytime it is heavy rain, we get some water in the basement, but this was the worst it's been.
The next morning I was talking to our neighbor telling him about my night. He asked why our sump pumps were not working.
"Sump pumps?!" I replied. "We don't have any!".
He informed me that the owners before us had three sump pumps! And we learned that they had removed them!
We had NO idea. And have lived in the house for 16 years.
I didn't even know that sump pumps in the city were a thing. Now we are clear on our next step to better solve our 'water in basement' problem we've had for years.
That's the thing. Sometimes you just don't know what you don't know.
This is exactly why I run my annual workshop The Big Shift: Focus Your Time, Balance Your Life.
Because everything I share with you – which is rooted in positive psychology and high-performance practices – I once HAD NO IDEA about.
I used to think that high performance was equated to how hard and long I worked.
I used to think I managed my time well because I always got everything done (even though I was working evenings and weekends to keep up).
I used to think it was bad to say no – and kept overcommitting and feeling overwhelmed with it all.
Thankfully, I learned there is a better way.
You can have a healthy work-life balance and be even more effective in your work.
You can be present and enjoy both your work and personal time.
You can feel happier, calm and centered even when things are crazy around you . . . or in stormy weather ;-).
If you're feeling overworked, overwhelmed and spread thin, perhaps you just don't know what you don't know.
Let me help guide you to figure out how to focus your time and balance your life without sacrificing performance (in fact, I bet you'll perform even better). Send me an email to learn more with the words "Big Shift".
All my best,
---
What Next?

Wherever you are on your journey, I'm here to support you in the way that works best for you!

1. Discover how professionals who have it all - great life balance AND high performance - operate behind the scenes. Hint, to have it all you have to stop doing it all! Click here to access this free training.
2. If you are a professional woman who wants to take control of your workload, balance your life and be your best at work and at home (even with all the demands and messiness of everyday life), book a complimentary call and we can see if The Balanced Leader™️ is right for YOU.
3. I also offer speaking presentations, workshops and coaching programs to support leaders and teams in creating more balance, less stress and high performance. Book a complimentary call or contact me here to discuss bringing this in for your organization.
4. Follow me on your favorite social media platform whether it's LinkedIn, YouTube, Instagram or Facebook for ideas, inspiration and real-life lessons. I hang out mostly on LinkedIn!
Stacey L. Olson is a Leadership and Certified Positive Psychology Coach, has 15 years of corporate experience and has gone through her own transformational change from burning out to balanced in life while performing at a high level (both in her corporate career and own business). She works with professionals who want to work less, live more and be their best even with all the demands, high expectations and messiness of everyday life. Stacey is the founder of The Balanced Leader™ program and offers executive and leadership coaching, workshops, and speaking.